NEWS! NEWS! NEWS!

Welcome

This is the Queenstown Sampler Designs website.
We hope you find it interesting and helpful.
We welcome your input and comments so that we may
make it better.


NEW FOR NASHVILLE 2020
Queenstown Sampler Designs is pleased to introduce our releases for 2020 Nashville.
Please contact your favorite needlework shop to order your charts today!
Group 1- 5 samplers
Back row L-R



Letitia Jane Andrews 1836, Hannah Peniston 1830, Hannah Longstreth 1805
Front row L-R

Ann Curtis 1768, Hester Eckman c.1835
Group 2 – 3 samplers
L-R
Mary Jane Sanders 1732, Sarah Worrall 1790, Five Deer, American first half 19th century.

********************************


Sassy Jacks Stitchery has 16 Queenstown Sampler Designs models on display!
Hope you can visit Kimberly soon to see our schoolgirl samplers. Sassy Jacky carries all our designs.
After the Nashville market tradeshow, all our new models will be displayed

At:


In Stitches Needlework Shop, 8800 – F


Pear Tree Village Court


Alexandria, Virginia

Ellen's fabulous shop is located a short distance from the
57th Annual Woodlawn Needlework Show & Sale. The show is held every March,
running for the entire month, and showcases needlework from artists all around the world.


http://www.woodlawnpopeleighey.org/annualneedleworkshow



Woodlawn Needlework Show UPDATE

The National Trust has made the decision to close Woodlawn and Pope-Leighey House effective through March 27th and all tours, programs, and events will suspended, including our Annual Needlework Show.

We are sorry for any inconvenience this closure might cause and hope that this might be only a postponement of the Show, if it is both practical and deemed safe to do so, we may be able to re-open the exhibit at a later date. We all love organizing and executing this event each March, and appreciate your support as we move through this situation. We look forward to seeing you back at Woodlawn & Pope-Leighey very soon!


Hannah Longstreth 1805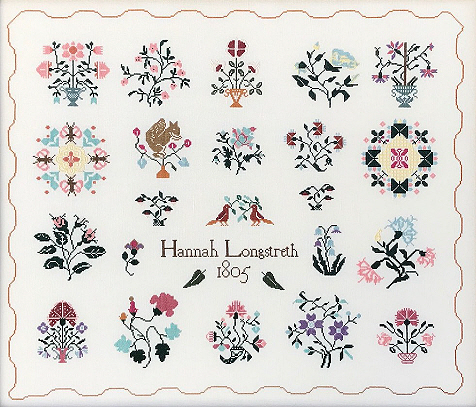 100% of the sales of this sampler will be donated to our Grand niece's education fund.
Her name is also Hannah Longstreth and is a descendant of the original sampler maker.
A reproduction of a Chester County, PA sampler.
Any level
Legacy Linen, 45 count, color Jersey Cream
Stitched in Needlepoint Inc. silk
Stitch Count = 340 high x 400 wide


Design area = 15.11" high x 17.78" wide





Ann Curtis 1768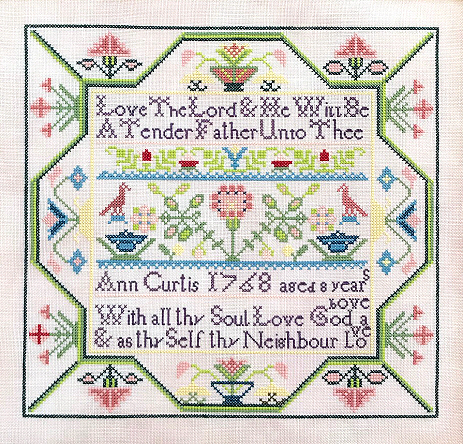 An American sampler held in a private collection

Any Level


Lakeside Linens, 32 count color Light Examplar
Stitched in Needlepoint Inc. silk
Stitch Count = 140 high x 146 wide


Design area = 8.75" high x 9.12" wide
Five Deer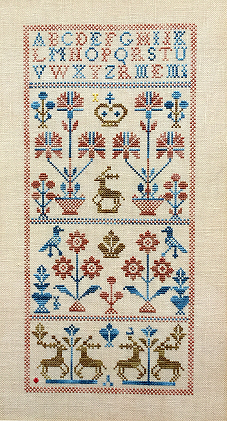 An American sampler held in the QSD collection.
Any Level


Lakeside Linens, 32 count color Examplar
Stitched in Gloriana silk
Stitch Count = 196 high x 94 wide


Design area = 12.25" high x 5.88" wide



Hannah Peniston 1830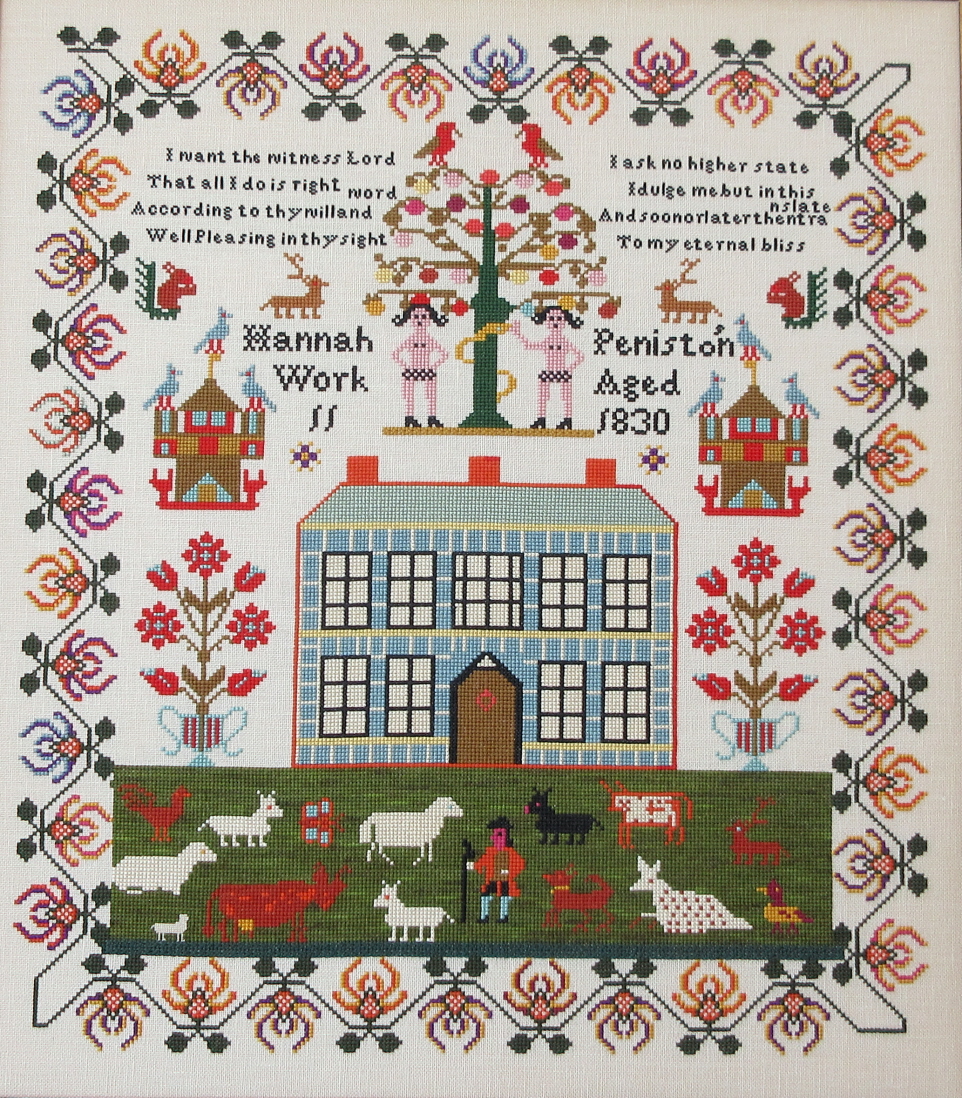 An English sampler held in the QSD Collection
Any Level


Belfast Linen, 32 count color Antique Ivory
Stitched in DMC Cotton floss and Gentle Arts Threads
Stitch Count = 277 high x 238 wide
Design area = 17.31" high x 14.88" wide







Hester Ann Eckman c1835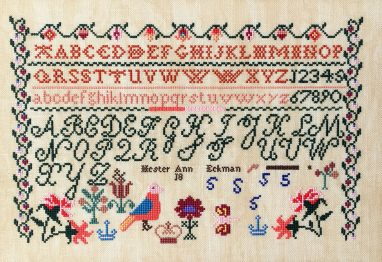 A Lancaster County, PA Sampler
Any Level



Belfast Linen, 32 count

color

Vintage Country Mocha
Stitched in DMC Cotton floss
Stitch Count = 123 high x 191 wide


Design area = 7.69" high x 11.94" wide






Letitia Jane Andrews 1836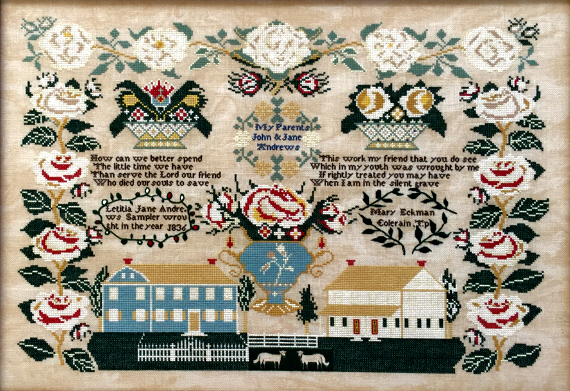 A Lancaster County, PA Sampler

Any Level

Belfast Linen, 32 count color Vintage Country Mocha
Stitched in NPI Silks
Stitch Count = 198 high x 294 wide

Design area = 12.38" high x 18.38" wide
Mary Jane Sanders 1732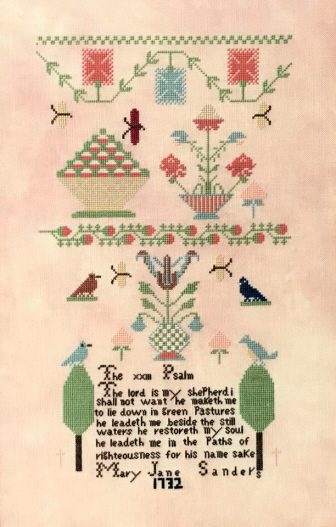 An American sampler

Any Level


Lakeside Linens, 36 count, color Vintage Examplar
Stitched in Needlepoint Inc. Silk floss
Stitch Count = 221 high x 126 wide


Design area = 11.94" high x 6.83" wide






Sarah Worrall 1790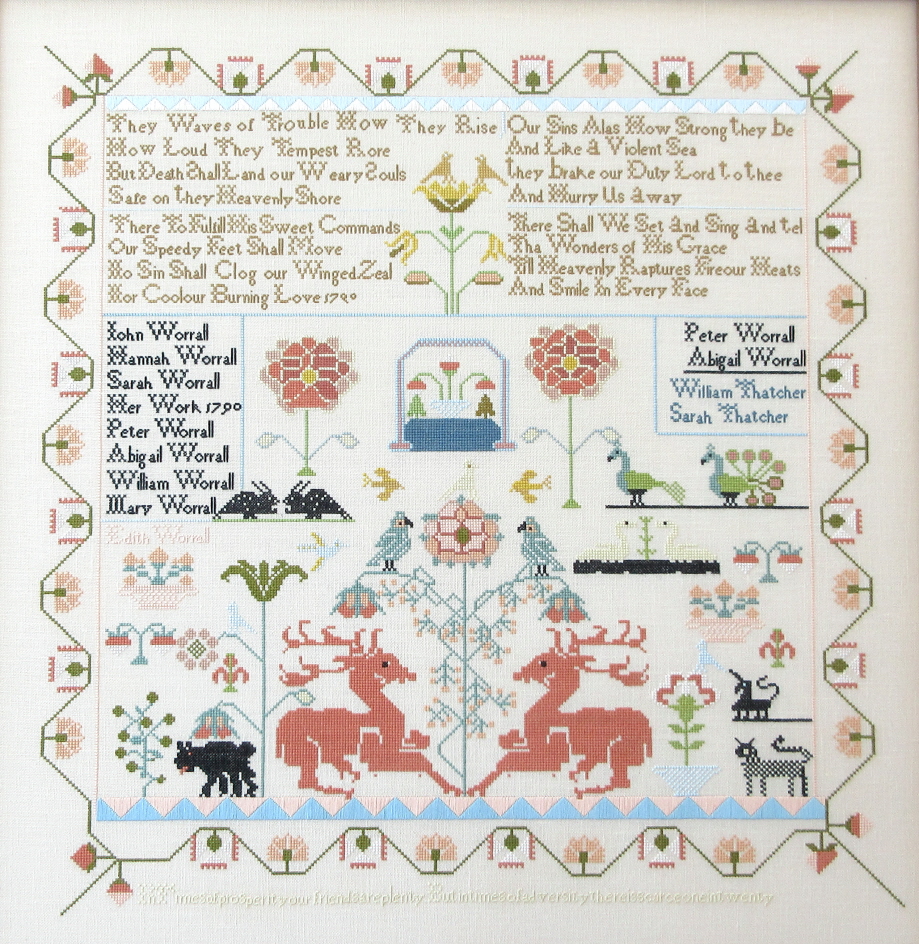 A Delaware County, PA sampler
Any Level


Zweigart Newcastle linen, 40 count, color Café au Lait
Stitched in Needlepoint Inc. Silk


Stitch Count = 320 high x 310 wide


Design area = 16.00" high x 15.55" wide






Annapolis, Maryland
If you would like to visit the original Sands House Sampler and view two more Annapolis, MD samplers, visit: http://www.sandshouse.org/



God Bless our Troops!

queenstownsamplerdesigns@atlanticbb.net
This web site is managed and maintained by "Bubba".
Bubba also serves as the big BM (Business Manager) for Queenstown Sampler Designs.
Bubba last worked here on 4/15/2020